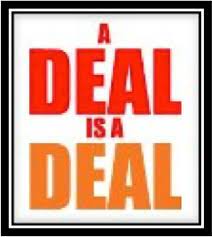 Question:
A property is listed for sale and offers co-operating agents X.5% plus HST. The Co-Operating Brokerage submits and offer reflecting the X.5%
The Listing Brokerage without any discussion or correspondence about the offer and/or the commission sends back a counter offer. The Sellers and their agent have stroked out "X.5% as per MLS Listing" and inserted a proposal of only "X%" (or .5% less).
The Buyers are happy with the signback and accept the offer.
Neither the Buyers nor the Co-Operating Agent will agree to the amount that is less than the MLS offering and refuse to sign the altered co-op.
We have a deal, but we don't have a fully signed Confirmation of Co-Op.
How does this affect the commission?
Answer:
The Seller has no right to negotiate the Co-operating Brokerage's commission.
Only the Listing Brokerage can do that, and now it's too late. The Listing Agent would have had to change the commission offered on the MLS before the Offer
So, the CCR comes back altered, don't agree to it; don't initial the change. At best, simply say: "I'll have to take that under advisement".
Brian Madigan LL.B., Broker