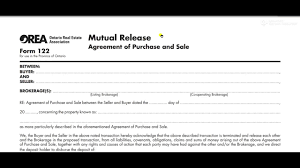 Question:
Why do we insist on a Mutual Release when a deposit was never paid? The Agreement of Purchase and Sale already says it becomes "null and void" if a condition is not met on time. The Mutual Release is for the return of funds in a trust account, correct?
Answer:
The late deposit payment or non-payment is a term of the contract not a condition.
The Seller is left with two choices:
Declare the contact to be in breach by the Buyer, and
Confirm that the Seller elects to proceed with the contract.
The Mutual Release can add certainty to the fact that the parties are not intending to sue one another. Here, it's of benefit to the Buyer. Why not get it?
But, from the Seller's perspective, the Buyer is already in breach of contract and realistically there is no value or benefit to signing the Mutual Release with the Buyer.
The big problem for Listing Agents is:
1) providing false information, like for example: "the mutual release is necessary before we can re-list", or
2) providing insufficient or incorrect information about a potential lawsuit.
It is this second situation which agents should not address. Leave that to someone practicing law. Get the Seller to confirm that they have secured appropriate legal advice and are ready to proceed with a Mutual Release document. There are numerous situations where Sellers are suing their Listing Agents for inappropriately executing a "routine" Mutual Release from thye Spring of 2017 and will, likely repeat that in the Spring of 2022.
There is a side issue, and that is the commission. Will the agents be suing for their commission. It would be nice to know, one way or the other!
Brian Madigan LL.B., Broker